Sink Repair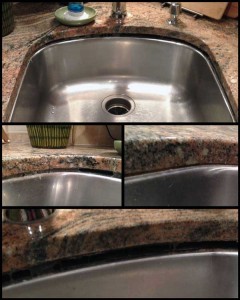 If your undermount sink is detaching from the bottom of your countertop this is most likely a result of poor installation and/or improper use. This is most common with stainless steel double bowl sinks not having enough support in the center.
If you have a stainless steel double bowl and you're filling a large pot, do not rest the pot on the center spine where the two bowls meet while filling. If your faucet has a pull-out sprayer, place the large pot on the countertop and use your sprayer. The gauge of the sink can also be a factor: 18 gauge stainless steel is acceptable, but 16 gauge is sturdier.
One of the most common request that FixIt Countertop gets is for Cracked Corian Sink and Undermount Sink remounting.
Sink Modification
Change cracked Corian sink to stainless steel undermount sink.
Change stainless steel double bowl to larger stainless steel single bowl.
Sink Installation Service
Kitchen Sinks.
Bar Sinks.
Bathroom Sinks.
Schedule online 24/7 or call our customer service representatives Mon. through Fri. between 9-5 to schedule an in-home written estimate (service call fee may apply).
301-769-6399 (Maryland)
703-249-5111 (Virginia)
813-666-4666 (Southwestern Florida)