Countertop Resurfacing
Countertop resurfacing is the best way to get your countertops looking like they were just installed.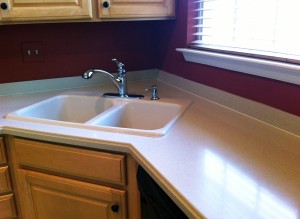 Most people wait many years before getting their countertops resurfaced or sealed and polished for the first time and end up spending more than normal for the service because of the amount of scratches that have accumulated over the years. What was once a simple job is now a 4-hour job. If you have your countertops resurfaced at  least every 2 years, we're in and out in no time with a minimum cost to you.
If you're selling a home that has Corian countertops installed, getting them resurfaced may save you from having to buy granite countertops and they could look just as nice.
How much does countertop resurfacing cost?
Schedule online 24/7 or call our customer service representatives Mon. through Fri. between 9-5 to schedule an in-home written estimate (service call fee may apply).

301-769-6399 (Maryland)
703-249-5111 (Virginia)
813-666-4666 (Southwestern Florida)

The countertop estimator arrives and evaluates the work required to refinish your countertops and provides you with a written estimate.
You decide to move forward. The service fee will be applied to the total contract price, and we then schedule a FixIt Pro to return to perform the countertop repair/service.
FixIt Countertops guarantees a major improvement in the appearance of your countertops after the repair/service is done, at a fraction of the cost of replacing your countertops.