Countertop Repair Overview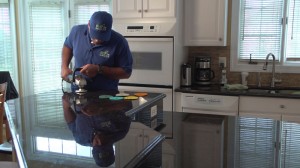 Granite and engineered stone countertop repairs typically take a technician 1-2 hours to complete, longer if it is severe damage. A chipped quartz or granite countertop could develop into a full-fledged crack at any time.  It's important to repair a chip or crack as soon as you spot it. High-quality countertop repair will restore the structural integrity of your countertop, help prevent the damage from spreading, and will make the blemish less noticeable without spending thousands on new replacement countertops.
Solid Surface countertop repairs take a bit longer, usually around 3-4 hours to complete, again longer if the damage is severe. Repairing your solid surface countertop is important to prevent the damage from spreading.
Our Countertop Repair Process
All FixIt Countertops repairs are carried out by skilled technicians using only the best tools and materials in the industry. Your technician will inject resin into the chip, which is then carefully cured and polished. In some cases we will custom mix multiple color samples of epoxy to match/blend the damaged area. After we're done we will leave the work area in as good or better condition than we found it.
Schedule with FixIt Countertops
Schedule online 24/7 or call our customer service representatives Mon. through Fri. between 9-5 to schedule an in-home written estimate (service call fee may apply).
301-769-6399 (Maryland)
703-249-5111 (Virginia)
813-666-4666 (Southwestern Florida)