Self Help Center
Have countertop damage? Take a picture of your countertop damage and upload it to the right. Answer a few quick questions and one of our FixIt Pros will contact you with a quote!
What kind of countertops do I have?
Solid Surface
Solid Surface countertops are also referred to as Corian. They are man-made acrylic countertops that are low-maintenance and available in a wide variety of colors and patterns. Because they are man-made, solid surface countertops can be molded into any shape and can include an integrated sink for a seamless finish.
Here are a few samples of Corian colors. To view the full range of Corain colors, please click here.
Engineered Stone
Quartz is the common choice for engineered stone countertops. They offer non-porous and scratch resistant surfaces perfect for kitchens. Since they are non-porous, Quartz countertops require no sealing or polishing. Silestone and Caesarstone are the best known brands of engineered quartz.
Below are a few samples of engineered stone countertop colors. To view a full range of colors available, visit the following:
SileStone |  CaesarStone  |  Zodiaq  |  Cambria
Natural Stone
Natural stone countertops include granite, marble, and soapstone. Due to the porous nature of these materials, it is suggested to use a sealant to keep stains at bay. Natural stone countertops offer unique patterns and colors – no two slabs are exactly alike.
Here are samples of common natural stone colors.
What edge profile do I have?
Natural & Engineered Stone Edges
Below are common examples of countertop edge profiles.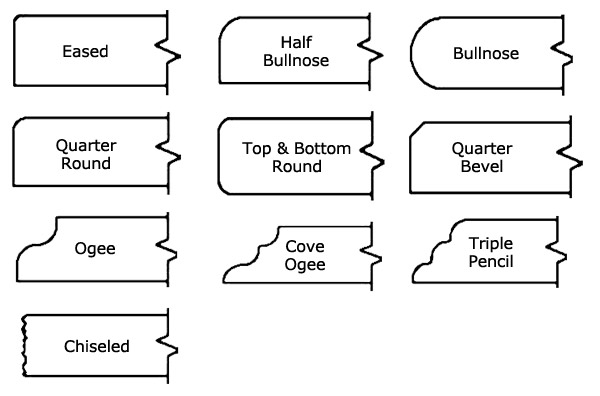 Solid Surface Edges
Here are some common examples of solid surface countertop edge profiles.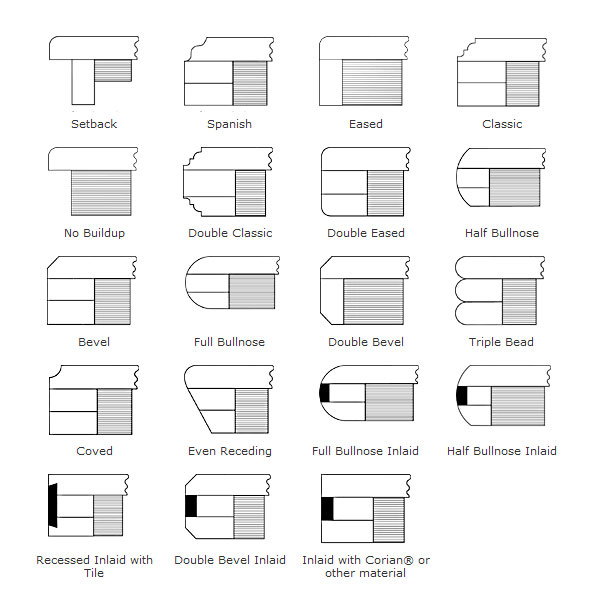 How is my sink mounted?
Undermount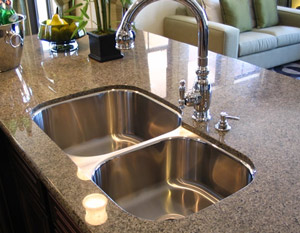 Undermount sinks are mounted below the countertop. They are well suited for countertop materials such as granite, marble, soapstone, and concrete.
If your undermount sink is pulling away from the underside of your countertop, please visit our Sink Repair section to schedule your appointment today.
Farmhouse (Apron)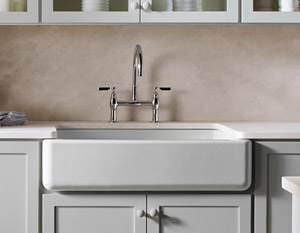 A farmhouse, or apron, sink can be mounted three different ways: under-mount, flush-mount, and top-mount. They are a great choice to contemporary kitchens and come in a wide variety of colors and materials, including copper, ceramic, and stainless steel.
If you're remodeling your kitchen, our FixIt Pros make sure your new farmhouse sink has a perfect fit. Contact us today to learn more about our countertop modification services.
Drop-In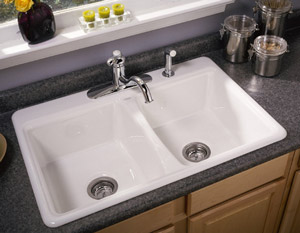 Drop-in sinks are considered the most common type of sink. To install, they "drop" into a hole cut out of the countertop. They are also known as "self-rimming" or "surface mounted".
Drop-in sinks are available in many different materials, like stainless steel, ceramic, and glass.
Want to replace your current sink with a differently sized sink? Call the pros at Fixit Countertop! With our countertop modification services, we can ensure your new sink fits impeccably.
Corian®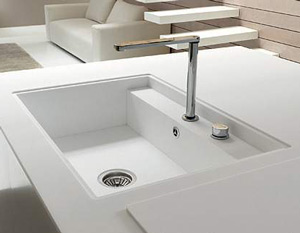 Corian® sinks are made out of the same solid surface material as a Corian® countertop. A Corian® sink can blend seamlessly into your design, exactly matching your solid surface Corian® countertop.
Corian® sinks will be prone to the same type of damage as your Corian® countertop.
My Countertops are Damaged. Now what?
Our Repair Cost Guide.
In this area, homeowners are paying, on average, about $400 to repair their kitchen countertops. Most countertop damage, such as chips and edge damage, is salvagable.